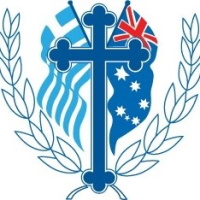 Dear Members,

The Hellenic Community Committee elected in June 2021, is grasping and dealing with facilities in Northbridge, namely the Church, the Rectory, two halls, and at Dianella St. Andrew's Grammar, the Saturday morning Greek language school, and Aged Care matters. The Committee believes effective and regular communication with the members is vital. We are committed to ensure the prosperity of all Community entities is well communicated to members.
The existing communications do not suit a proportion of our members; this was echoed at the last AGM. The Committee decided this has to be addressed as a priority.
This issue of the eNews will be the last in the current format. The next regular medium for communicating with members will be a hard copy edition posted to member households without access to electronic media. Members with email addresses will receive an electronic version of the hard copy edition.
The focus is now on producing a timely, well presented, HCWA focused edition and reflecting on the new Committees 140 days in office.
The first issue is being prepared and will be issued in early November. With this new format of printed and electronic news, we hope to keep all members aware of achievements, issues, and events in the HCWA.
In the same Newsletter, our focus will also be on obtaining paid advertisements from member businesses, or other associations wishing to advertise. With all our present entities and events, we will make decisions with a profit focused mindset. Members will be pleased to see at the closing of this financial year, a change in the operations of all entities focused to produce a surplus.
Following receipt of this Newsletter we welcome your valued feedback.
Kind regards
Paul Afkos OAM
President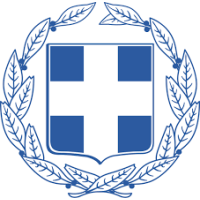 Με ιδιαίτερη χαρά καλώ όλους τους Έλληνες και Φιλέλληνες της Δυτικής Αυστραλίας να τιμήσουν με την παρουσία τους τις ακόλουθες εκδηλώσεις για τον εορτασμό της Εθνικής Επετείου της 28ης Οκτωβρίου 1940:
Κυριακή 31 Οκτωβρίου 2021, ώρα 10:30, δοξολογία στον Ιερό Ναό Αγίου Νεκταρίου, 22 Dianella Dr, Dianella WA 6059.
Κυριακή 31 Οκτωβρίου 2021, ώρα 12:30, τελετή κατάθεσης στεφάνου στο State War Memorial στο Kings Park.
Η παρουσία σας θα λαμπρύνει τον εορτασμό της Εθνική μας Επετείου!
Γεωργία Καρασιώτου
Πρόξενος της Ελλάδας στην Πέρθη





ANNOUNCEMENT- INVITATION
Ι have the pleasure of inviting all Greeks and friends of Greece in Western Australia to attend the following events, on the occasion of the commemoration of the National Day of the 28th of October 1940:
Sunday 31st of October 2021 at 10:30 a.m.: Doxology at the Greek Orthodox Church of St Nektarios, 22 Dianella Dr, Dianella WA 6059.
Sunday 31st of October 2021 at 12:30 pm: Wreath Laying Ceremony at the State War Memorial in Kings Park.
Your presence will brighten the celebration of our National Day!
Georgia Karasiotou
Consul of Greece in Perth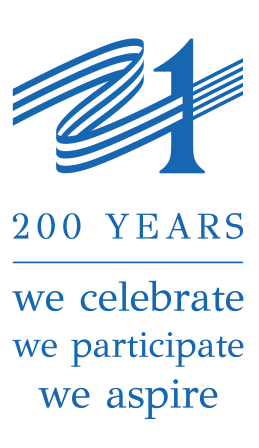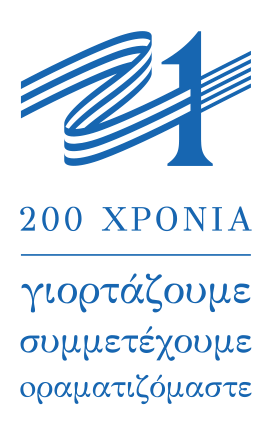 Consulate of Greece / Προξενείο της Ελλάδος
Lev.8, 16 St Georges Tce, Perth, WA 6000
Tel.: +618 93256608 Fax: +618 93252940
www.mfa.gr/perth, e-mail: This email address is being protected from spambots. You need JavaScript enabled to view it.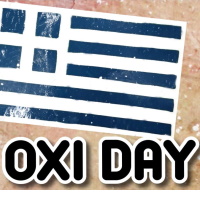 After a break of 3 years since our last OXI Day event and following our successful dance in June the Hellenic Association Club of WA Inc. presents: OXI Day Dinner Dance - Saturday 30 October 2021 - 7:00PM till late. The Hellenic Club of WA, 75 Stirling Street Perth.
ENTERTAINMENT:
-Performance by the Dance Group of the Pontian Brotherhood of St George WA
-Entertainment by Socrates
-Raffle prizes
-Plenty of dancing, don't miss out
-Dinner will be served (menu announced closer to the event)
-More to be announced
TICKETS:
Adults $40 - Children 12-16 $20 - Children Under 12 FREE
To purchase your tickets please click here or contact Theo on 0418950396
PARKING:
Ample parking is available at Secure Parking carpark at the end of Stirling St, just a 1 min walk from the club
$6 flat for the night
See link below for directions
https://maps.app.goo.gl/xZfqpi7s286R2Qnu7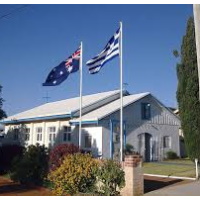 The Hellenic Society of Geraldton is inviting you and your family to the Annual Feast Day celebration of the Church of the Archangels 'Michael & Gabriel' in Geraldton.
His Grace Bishop Elpidios of Kyaneon will be presiding over the Vespers Service on Saturday 6th November commencing at 6.00pm and the following day at the Matins Service and Hierarchical Divine Liturgy from 7.30am -12.00pm.
A luncheon will take place after church at Fitzgerald Hall - 338 Chapman Road, Bluff Point at which our Commemorative History Book, capturing the Church's 55-year history (1965 - 2020) will be presented by Historian Dr John Yiannakis OAM.
Prebookings for luncheon meals are required, for catering purposes. For bookings, please contact Mr. Lambis Bakaimis on 94480546 or Mrs. Aphrodite Ponga on 9446 3011. We have organized a bus as well as hotel accommodation, for those wishing to travel by bus.
The Hellenic Society of Geraldton hopes to see you on this great weekend of celebration...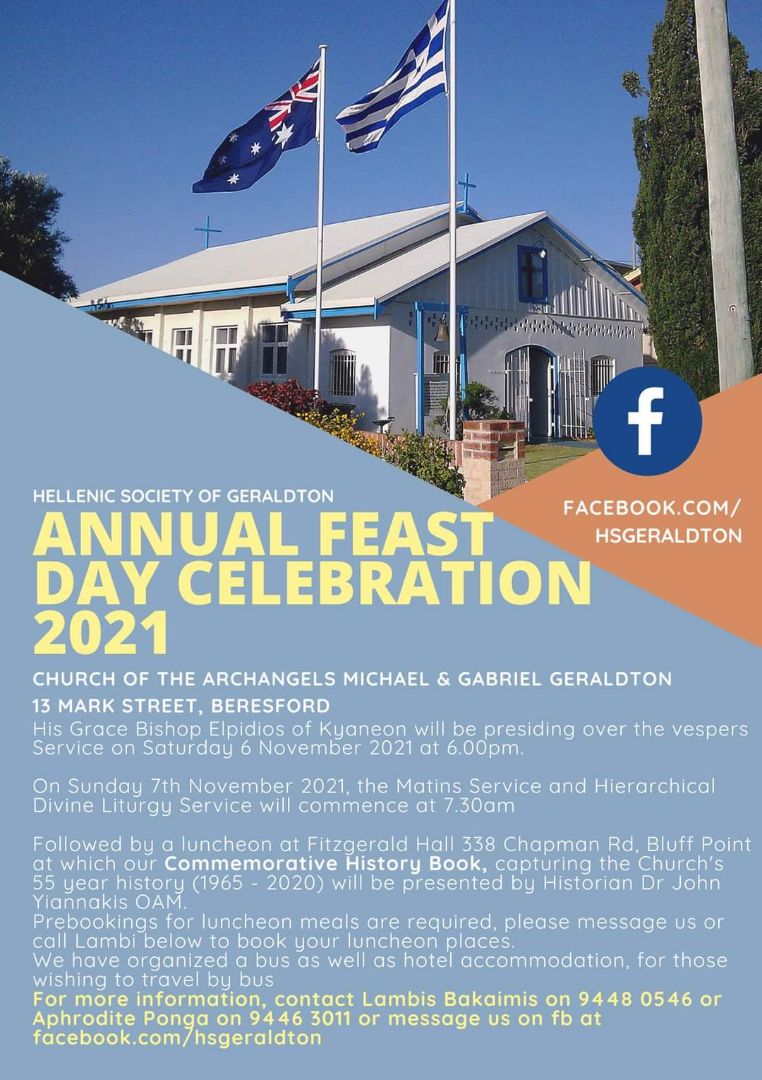 The Management Committee
Hellenic Society of Geraldton